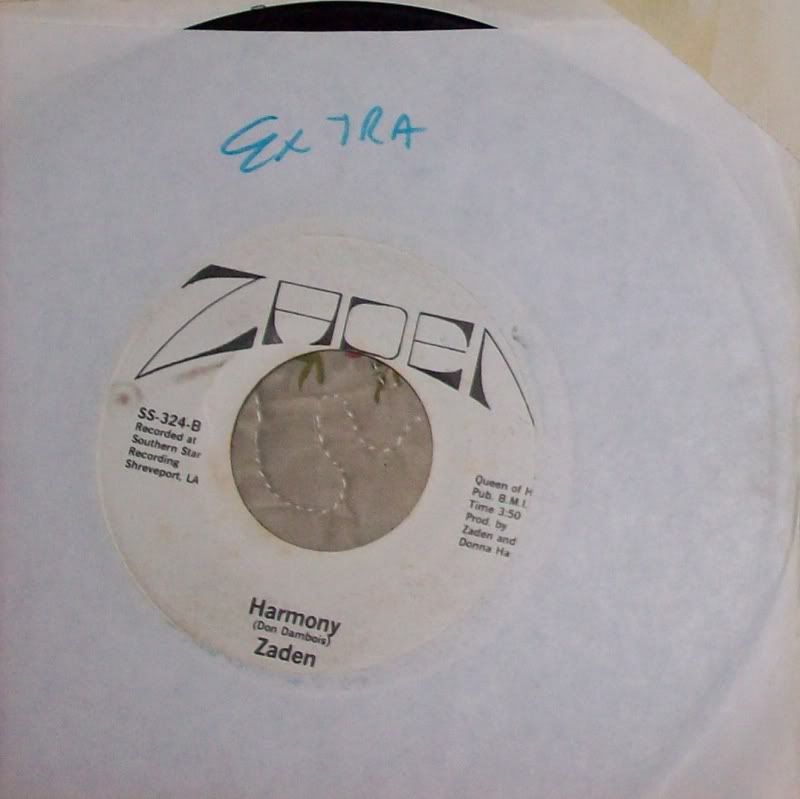 ZADEN, 'CRAZY LADY' b/w 'HARMONY' (private 45, 198?)
Yes! My favorite drive-in calculus: Camaros and chest hair with a six pack to go (and maybe a one-hitter smuggled into the visitor's side bathroom). Infectious, retard pop-metal out of Shreveport, LA boasting future author of rip-off Harry Potter children's literature on lyrics and (I'm guessing) singing. 'Crazy Lady' is stutter-step swag probably swinging for Van Halen, but failing the field sobriety check and landing (in a heap) just south of Starz. 'Harmony' on the other hand starts off sounding - dangerously - not unlike Three Dog Night before pushing on into the forbidden zone of big thought lyrics and some truly nimble pinky flexes on them old frets. I'm not sure which side is finer. Both, However, are prime exemplars of the regional sub-genus of Louisiana butt rock.
And yeah Yeah YEAH, more pops and crackles than a reunion of the '74 Vikings defensive line - BOO HOO! You wanna buy me a better copy - be my guest!
In my opinion, TOASTED/HAMMERED & HEAVILY PARTIED is the only way discs like these should ever be enjoyed. If you don't have to crank up the tone-arm weight, YOU'RE DOING IT WRONG!
ZADEN SHREDS AND I MEAN SERIOUSLY!!!!
'CRAZY LADY'
'HARMONY'