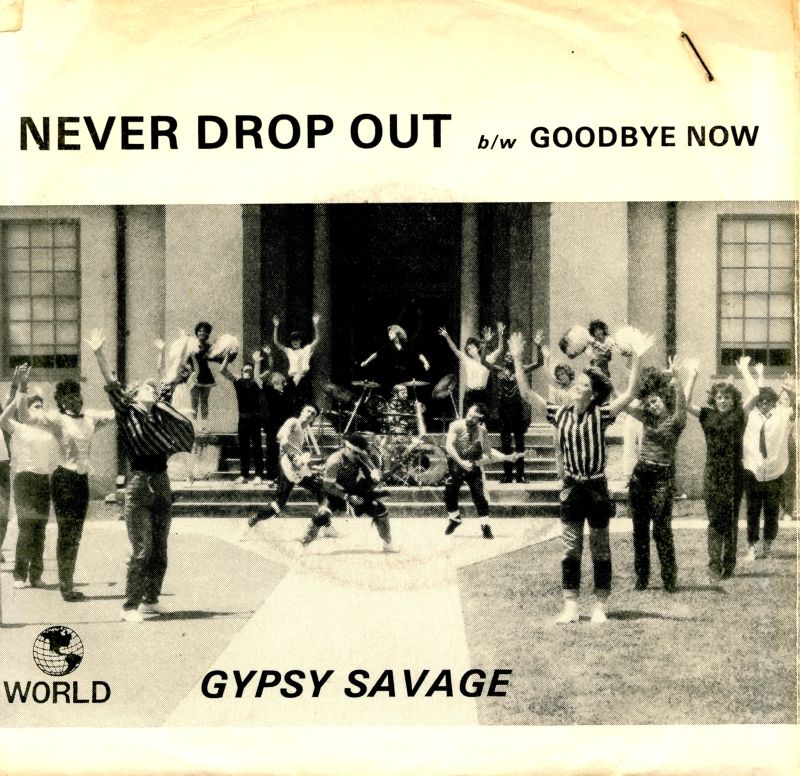 GYPSY SAVAGE, 'NEVER DROP OUT' b/w 'GOODBYE NOW' (World Records, 198?)
April is the cruelest of months. So cruel in fact that me and t.s. had to take the entire month of May off to recover.
But now we're back and we're here to show you that we can really shake 'em down!
Thinking of changing the title of this blog to Bad Heavy Metal Records I Like And Buy. Cos I like and buy a lot of them. So, without further adieu or delay, here's another fine example in an incompetent and shitty series. AND, these boys are local!
GYPSY SAVAGE - Gretna boys allegedly, though captured here in full flight on the front steps of McMain High off S. Claiborne - may not have been the
hey-bras-most-likely-to
in their headband and poodle mullet heyday. However, time, slavishness and pure boneheaded naivete has done much
to rehabilitate the mighty GS's rep and to amplify their charm immensely.
It also may represent a lyrical first for a genre notoriously infamous for its attitudes disdainful towards the benefits of a classical education. No smokin' in the boys room or ringing hell's bells for Gypsy Savage. Nope, school is in and on! Complete with parental guilt-trip fear-mongering and PSA/school assembly-style moves.
And if the music is budget Motley Crue, so what? Since when is that a bad thing?!?!?!
The b-side, 'Goodbye Now,' is only so-so, but, even if it wasn't, the chances of it bettering 'Never Drop Out' are lower than the aggregate state test scores of the Recovery School District.
Gypsy Savage later recorded a full-length, self-titled LP which I haven't heard, featuring the same excellent cover 'art' as their earlier 45 rpm. Why mess with success when you're batting 1000 and the aesthetic altiplano has been secured?
Enjoy then the mess and mediocrity of my writing, my blog and these total losers. Long live the local bin.
'NEVER DROP OUT' 'GOODBYE NOW'