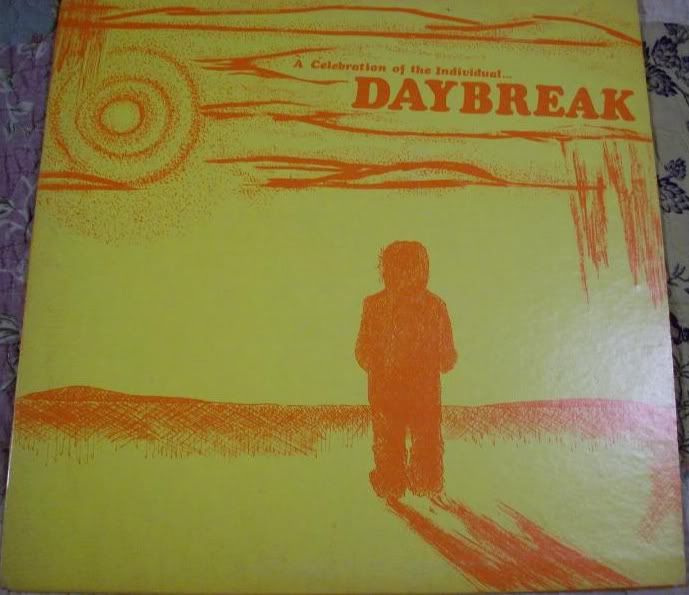 YEEUH! Guess who's back!!!!
So.
In keeping with my sub-McRib frequency of posting and joint-custodial attempts at purchasing viewer affection, instead of the usual single serve, today I am going to post up for your perusal an entire SIXTEEN TRACK PRIVATE PSYCH SCHOOL BAND BREAKS L@@K LP and promise you that daddy is never ever gone leave you again lil bloggy. Now just tell the nice case worker that you wanna live with me, baby.
Copied straight from the Acid Archives and purchased straight from the local library for .25 cents, 'A Celebration Of The Individual' is study hall psych for public speaking real people (and before you ask, my copy didn't come with either of the inserts or lyric book so don't bother asking me who these clowns were). My individual picks to click are the sub-O.Rex giz-rockin' 'Musclemania' and the no-child-left-behind fuzz electives of 'Proclamation I.' 'Drive Your Own Bus' is also an excellent foray into the seldom documented public transit D.I.Y. busker psych genre. There's some stank bad shit on here too, but the majority is good. And don't come at me complaining about the pops and skips either – IT'S A GHETTO PRESSIN, B!
THINK ABOUT THE CHILDREN!
PEACE!
DAYBREAK, 'A Celebration Of The Individual' (Dome, 1974)
'A high school project LP with the typical amateurish mix of fuzz rock and folk moves. This one is cruder than most and does hit a certain atmosphere, in addition to the strange effect created by the vastly differing skills of the participants. A folky track with crude female vocals has showoffy John McLaughlin guitar runs for no particular reason and the exaggerated ambitions and liberal band membership policy make for a few numbers that are bordering on chaos. The contrast between the simplistic folk and jazz-rock backing is a rather unusual experience, I must say. There's also some piano-led singer-songwriter tracks for that special school auditorium feel, while the second half of the albums brings in a more commercial 1970s folk and folkrock sound. There are some pretty songs in there, such as the introspective "Antonia" with dual female vocals, while "The Soulful Fighter" is an entertaining disaster of genre confusion and musical incompetence. One of the singers sounds too old for a high school kid. I wonder if the music teacher is responsible for the terrible piano ballad "I Strive To Make You Happy?" Despite the incongruous nature, this LP works pretty well and covers the 70s school project LPs' bases so well that it could be used as a yardstick for the style. The only thing missing is the lame poetry recitations, but there's a dopey scat-song that almost qualifies. Lots of tracks and long playtime, because everyone wanted in! [PL]
'PROCLAMATION I'
'LONELINESS'
'A BLACK CHILD SPEAKS TO GOD'
'FEELING THE WAY'
'DRIVE YOUR OWN BUS'
'I STRIVE TO MAKE YOU HAPPY'
'BLIND FOOL'
'PICTURES PAINTED BLUE'
'WORDS (SONG TO K.D.) / KIRAJA'
'ANTONIA'
'THE SOULFUL FIGHTER'
'MUSCLEMANIA'
'DREAMS'
'FOR I AM SO'
'DAYBREAK'