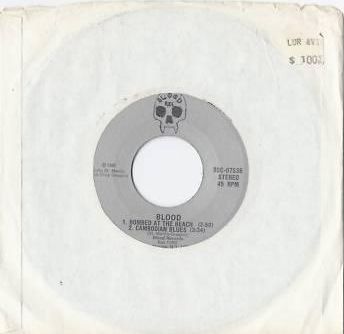 BLOOD, 'FLY ALL NIGHT' b/w 'BOMBED AT THE BEACH,' 'CAMBODIAN BLUES' (Blood, 1985)
I foolishly sold this record years ago when I had to move back in with my parents. Luckily for me, that didn't last long. AND, triply luckily for me AND FOR YOU, I reacquired the record in question AND the ebay listing of our unsweet particular parting survives like an ebay wrinkle in time.
So! As I don't think I could describe this record any better now if I tried, I'm just going to copy and paste my old ebay pitch. PLEASE NOTE THIS RECORD IS NOT FOR SALE! YOU'LL NEVER GET THIS ONE OFF ME AGAIN, SUCKERS!
More private-label mystery-band action, this time from Hauppauge, New York's
BLOOD
– Long Island's answer to the mighty
Flying Sixty-Nine
! And despite its relegation to the single's b-side, '
Bombed At The Beach'
is the obvious stand-out track, earning the green-light of approval for its utterly bone-head lyrics and crude almost
Dicators
-esque narrative approach. Select lyrics include:
'
At the spot, It's a wild scene,
The girls are hot and the guys are mean,
In the sand, The world in my hand,
Living in the fast lane in this great land.
'
The chorus similarly succeeds by rhyming '
beach
' with '
unleashed
.' The verse following continues in this vein, primarily concerning driving fast and laying chicks; all over a skuzzy, lo-fi, metal grind (the part where the singer tries to sound crazed and scream is terrifically unconvincing as well). The other tracks are average to fine; split between an ineptly atypical AOR/glam rocker with - I think - an anti-drug message and a humorous 'blues' about the Cambodian genocide. Borneo Jimmy would be blushing with pride.
Not sure if this ever came with a picture sleeve. Judging from the extremely primitive label design and the overall lack of sophistication to the band's attack, it seems unlikely.
Now I really wanna hear their second single! Anyone holding???
DON'T MISS OUT, FANS!
'FLY ALL NIGHT'
'BOMBED AT THE BEACH'
;
'CAMBODIAN BLUES'