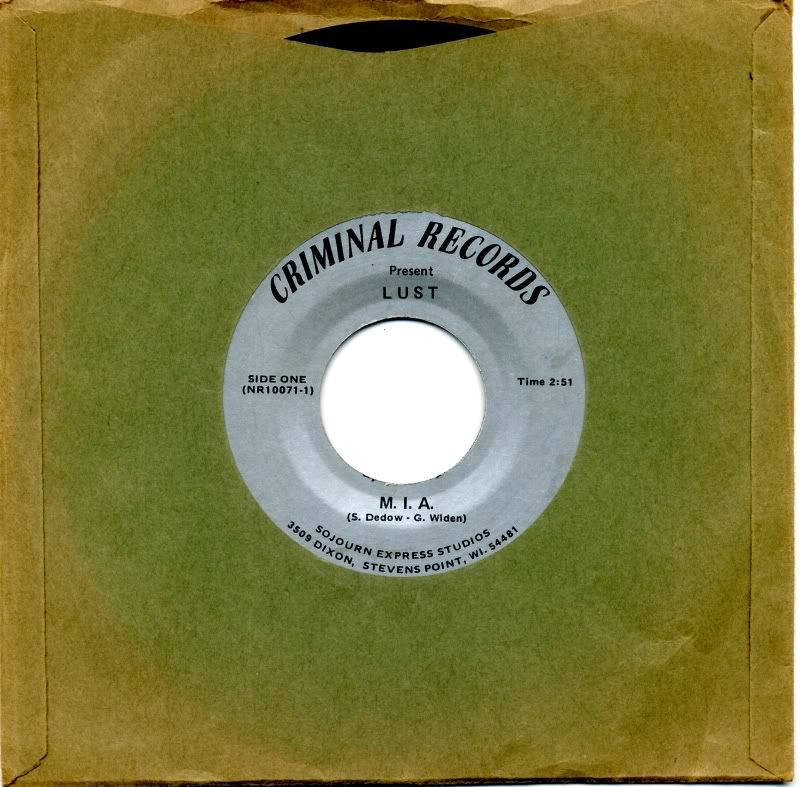 LUST, 'BLITZKRIEG' b/w 'M.I.A.' (Criminal Records, 1978)
If the verdict was ever in doubt as to the nature of this blog being akin to a Midwestern kangaroo Court Of Star Chamber, then hopefully this post can be the one that finally sends the peacekeepers packing.
Routinely dismissed as hick fly-over pastureland by its detractors or – perhaps nauseatingly worse – lauded as beer city maaaaaaan, Wisconsin in general and Milwaukee in particular is one of my favorite places on Earth. Being Southern by birth and Southern Baptist by the sense of humor of God, I fully understand what it's like to be regarded as backwards, benighted and perhaps even more than a little barbaric. The same way Faulkner took all the awfulness of Mississippi and didn't shy from it, instead making it a center-piece or point of pride with his writing, is the same style of thing I saw go-on with the gob of mutants I ran with in my few years spent in the good land. And I loved it even though my living situation was personally very miserable.
And I've said all that merely to say this:
MITTELWESTEN UBER ALLES - THE MIDWEST OVER THE REST!
And now I can finally stop talking in hyperbole and start talkin' bout LUST!
LUST!
METAL!
MAN!
METAL FROM WISCONSIN!
MAN!
METAL FROM STEVEN'S POINT , WISCONSIN!
MAN!
…which, as a city, is about as metal as Oshkosh (the clothing line or the town).
Who Lust were – if they were natives or just recorded there – is a mystery best left unto the younger scion of the Haupt clan. What we do know about Lust is that both sides of their lone single S M O K E with likely accidental NWOBHM speed und froth. 'Blitzkrieg' gets my vote likely due to my own preoccupying occupation, but the punk-y lyrics of 'M.I.A.' also have much to recommend themselves.
Enjoy now a deep double-draught of Lust: the band that made Steven's Point famous!
'BLITZKRIEG'
'M.I.A.'