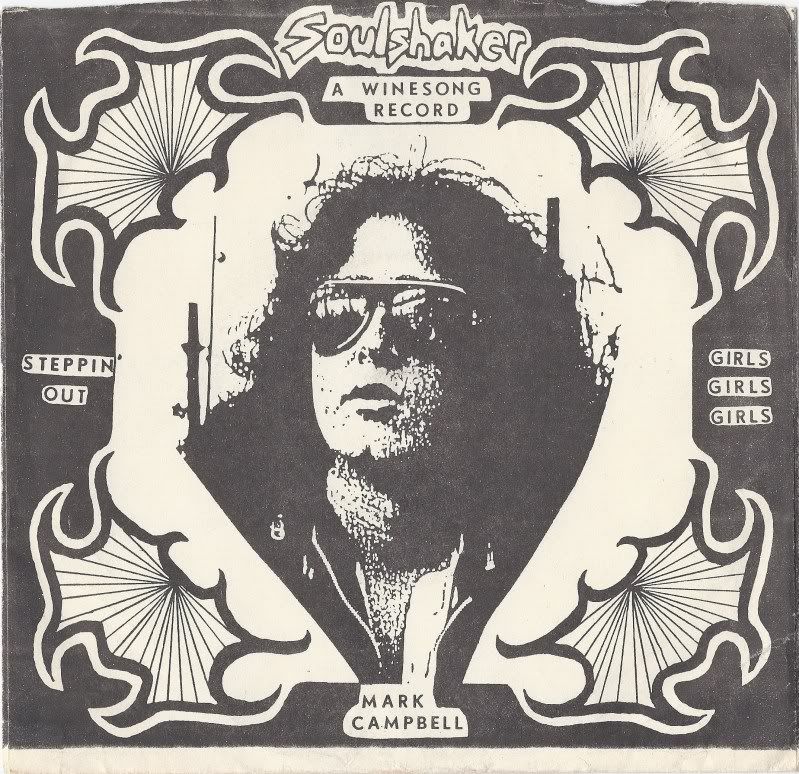 MARK CAMPBELL & SOULSHAKER, 'STEPPIN OUT' b/w 'GIRLS GIRLS GIRLS' (Winesong, 1978)
Complete credit/big-ups/whatever to Clayton S. for digging this one out. Imagine Robert Johnson (the caucasian close personal crony, not the Mississippi crossroads soul seller) meets The Pop! by way of Arlis!. ...or any other inparticulate prairie powerpopper with an exclamation point in their name for that matter.
Classy beyond belief with great words, great Mark Campbell vocal, great Soulshaker guitar, great sleeve; so much so that it moved a known Texas punk collector to distraction, describing it blithely as 'Awful b/w Worse.'
WHATTA PUNKS KNOW ANYWAY! Good music is wasted on bad (wasted) ears. And now I'm reeling in the years (which is just 'So It Goes' by Nick Lowe with different words five year earlier anyway).
DIG ON MARK CAMPBELL & SOULSHAKER, FEEBS! This blueberry wine tastes great! Mark is still out there too and available to meet all your Humble Pie and Bad Company cover band needs as they arise; don't be a stranger! Also, if you can't get with these lyrics, you for sure can't get with me.
'STEPPIN' OUT'
'GIRLS GIRLS GIRLS'