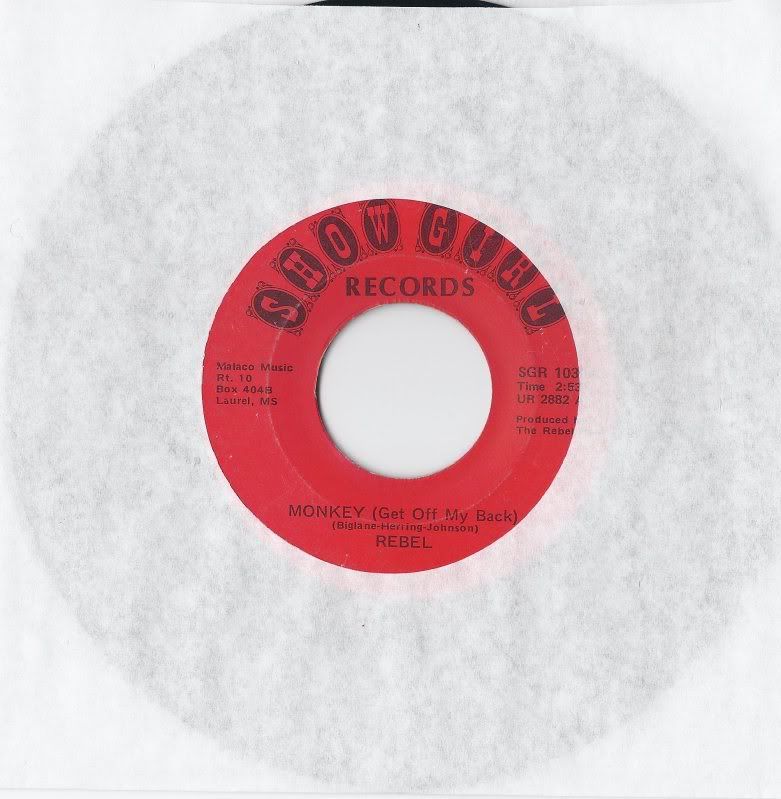 REBEL, 'MONKEY (GET OFF MY BACK)' b/w 'IT'S BEEN) A LONG TIME)' (Show Girl, 198?)
After losing out on the greatest record ever to come out of the booming metropolis of Laurel, MS. recently (AND costing a friend a hundred or so bucks in the process), I decided I would console myself within the arms of another pack of local losers from the Magnolia State.
I originally bought this record for the name alone thinking it might be a Johnny Rebel-style ummm, 'novelty' single (the A-side's song-title doing much to increase my hopes). Turns out, there's not a hint of racial prejudice to be found. Little to no competency either.
What is this record even supposed to be? Are they intentionally trying to be funky? Why are they singing like that? What year is this from? Is this a song about drugs or girls? Typically, the Rebel Band's lone (?) effort ask many more questions than it could ever hope to answer (a drum solo too???). To confound things even further, the b-side is some velvet moaning about a lost antebellum past or some shit that is way too close to the Marshall Tucker Band for my liking. All that is sure is these Rebs recorded at Malaco in Jackson and hailed from the hometown of fictional show-girl Blanche DuBois.
At the end of the day, the truth may never be known, which allows The Rebel Band to pass seamlessly into the speculative beer-belly ranks of accidental bar-band loser-geniuses alongside the likes of Fat Bruce and Smokehouse. Enjoy?
MONKEY (GET OFF MY BACK)