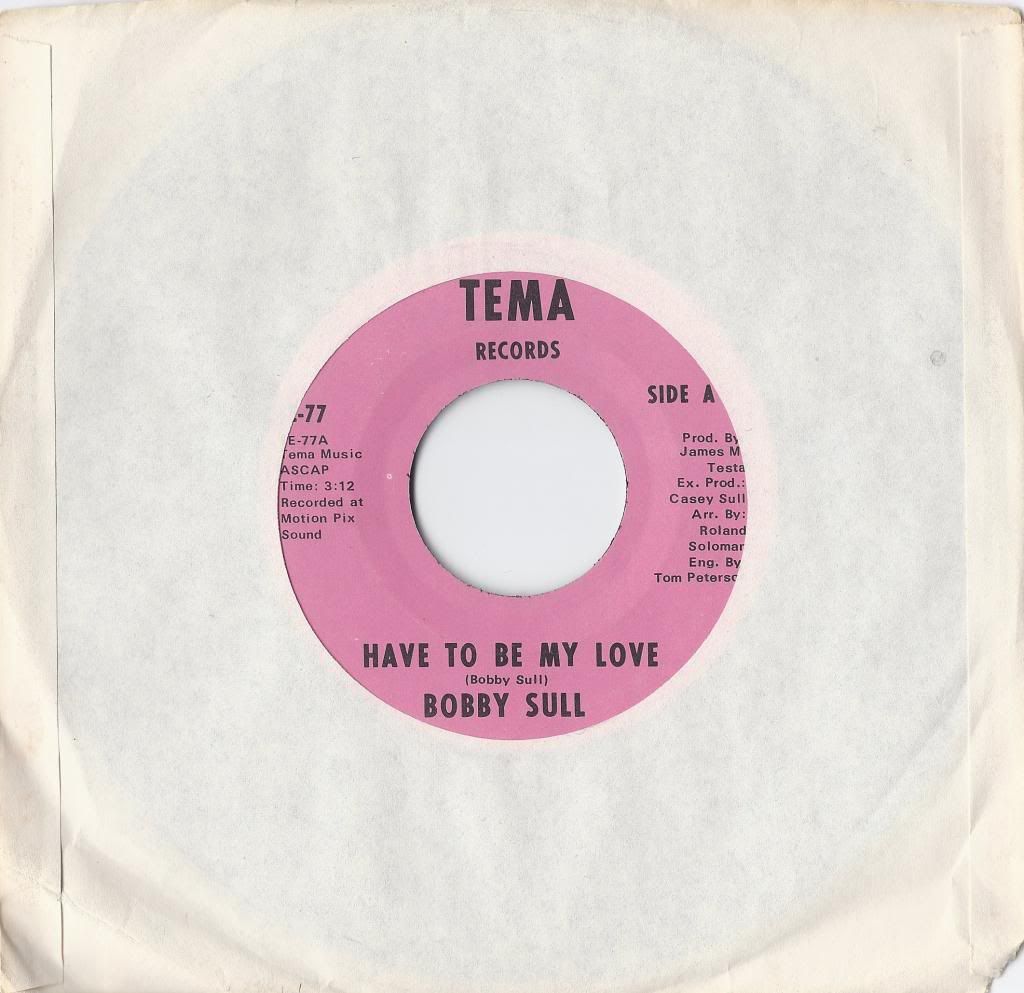 BOBBY SULL, 'HAVE TO BE MY LOVE' b/w 'ONE MORE THING' (Tema Records, 197?)
Not sure on what planet this constitutes modern or even crossover soul (read up on your c-frenzy read-ups).
In any event, fairly OBVIOUS Cleveland Caucasian cast towards Brother Records shores circa 'Surf's Up' or 'Holland' two-to-three-years late.
Reminds me most of 'Darlin'' or 'Sail On Sailor.'
But there's no surf in Cleveland USA, so Bobby Sull – whoever he was – has to vamp it up and fake the breakers like so many coastal and/or Anglophile poseurs before him
(Eric Carmen please stand up).
If Jon Tabakin is Beach Boys meets 'Threes Company,' then Bobby Sull is at least Brian Wilson cameoing on an episode of 'Phyllis' or 'Bosom Buddies.' *
YES, FANS, IT'S THAT GOOD!
Basically, it's a power pop tune that fits well within the atavistic M.O. of metro Cuyahoga County.
In a better world, Don Kriss and Bobby Sull may have been homesteading center-stage at Farm Aid in 1985 instead of Waylon and Willie.
No sleeve that I know of issued and no follow-up neither.
But, instead of lamenting this paucity of material, let us be thankful that B.S. even recorded this at all.
I love this record and wish that anyone who could share knowledge would open up their pocket-books of info so that all of us could loave-up and out on sunny Sull-y know-how.
HAVE TO BE MY LOVE
ONE MORE THING
*
This quote 100% totally lifted from the gut of Will Penoyar - KING OF MEN!